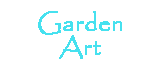 www.glassballoons.com
Click on photo to see examples of work
Purchase my work on ETSY at glassballoons.etsy.com
Description of Glass Balloons
Glass Balloons are hand-blown-glass garden art (garden globes) made especially for your yard. Each one is unique and one of a kind. I use only the best materials. All colors are glass (powder or frit) melted on the surface and will not chip off. Also the sun will never cause the colors to fade. They will make an enduring beautiful addition to your garden. Groupings of three or more work well. I have many more in stock so ask for your favorite color combination. Sizes are approximate. I iridized certain pieces to obtain a unique surface finish, these are priced accordingly.
Glass Balloons are hollow but very durable and made thick on the top so they won't break through when displayed on a metal or wooden rod. The 1/2 to 3/4 inch hole on the bottom allows the balloon to slip over the rod. They can be left outside all year in all kinds of weather. They withstand freezing and thawing and won't blow over even in strong winds. We've had some outside for 6 years with absolutely no problems.
Large 7"

Medium 6"

Small 5"

(Approximate Width)
Flat Glass Balloons
Small: about 5" in diameter
Medium:about 7 " in diameter
Flat Balloons show well in the house on a shelf or outside on a rock, in the middle of a bird bath, or any stand. They are not made to be displayed on a metal rod because they will tilt to the side and they are thinner on top than glass balloons. Handblown glass garden art.
My mother bought the stand on the left in Japan in the late 1950's, it's shape inspired me to create my "Green Clunker " stands shown on the right. I have one for sale on ETSY.
customer photos
These are photo's sent to me by previous customers
To purchase please call, Phone: 541-496-3939
or email glassballoons67@gmail.com
I except Mastercard, Visa, or PayPal